THANK YOU FOR YOUR PURCHASE…BUT DON'T CLOSE THIS PAGE…THIS UPGRADE COULD POTENTIALLY SKYROCKET YOUR RESULTS AS SOON AS TODAY!

Tried To Build A List But Failed Miserably? If So, Pay Attention To What I'm Offering Here

Take My AWeber Mastery Crash Course And Become A
List Building And Email Marketing Expert In No Time

I'll Teach You Everything I Know About Maximizing The AWeber List-Building Software!
You'll Get 9 Detailed, Step-By-Step, Video Tutorials To Finally Master One Of The Most Popular Email Auto-Responders In The Industry
Brand New And Completely Up To Date For 2022

Easy To Follow Over The Shoulder Video Tutorials
Helpful Tips And Tricks To Get More Subscribers
Take Full Advantage From The Power Of Aweber
Start Building A List Without Breaking The Bank
How To Make More Money From Your Existing List

This Course Applies Equally To Aweber Free And Pro
Suitable For Complete Beginners And Intermediate Marketers
They Called Me An Idiot For Offering Everything On This Page For Only $19.97
Dear Friend,
It doesn't matter whether you're a new marketer or an experienced one…Sooner or later you'll make mistakes.
One of the biggest mistakes you can make is not building an email list or using the wrong strategies when trying to build one.
It's so simple, yet most new marketers fail miserably when it comes to list building. Pretty straightforward…
Always link to a landing page where you'll give away a freebie in exchange for the visitor's email.
This will allow you to build an audience, communicate with them, gain their trust and then promote any product of your choice.
To build such a list you'll need a tool, and aWeber is one of the most user-friendly and industry leading tools to build your list quickly and easily.
Maybe you landed on my page because you thought about using or currently use Aweber as your E-Mail Provider.
And Indeed aWeber Is A Very Powerful Tool… However…
The fact is that Aweber is just like any other web service…it's constantly undergoing changes.
They do what they can to make their service easy to use and so that people don't get overwhelmed…
This means that a lot of the stuff that is really helpful may not be as obvious to somebody that visits the site…
Now you're probably wondering…Could I be missing some of this "helpful stuff"?
Doesn't all of it matter when email is still such a big part of marketing? The answer is yes and no…
There ARE things that you could do with aweber that may be a little technical that could have an impact on your business in a really positive way.
But the service is so easy to use that it's possible that you could get started with out knowing them and do just fine, and your customers and clients will be none the wiser.
But once you DO know them, your lists will be more targeted…your messaging more focused and your goals more realizable.
There are little things that you could be doing today to increase your visibility and your open rate and get more people to see your offers.
If you could learn that right now, would you be interested? We all know the answer to that question…
So here it is…
Brand New And Improved – The Aweber Mastery Crash Course 3.0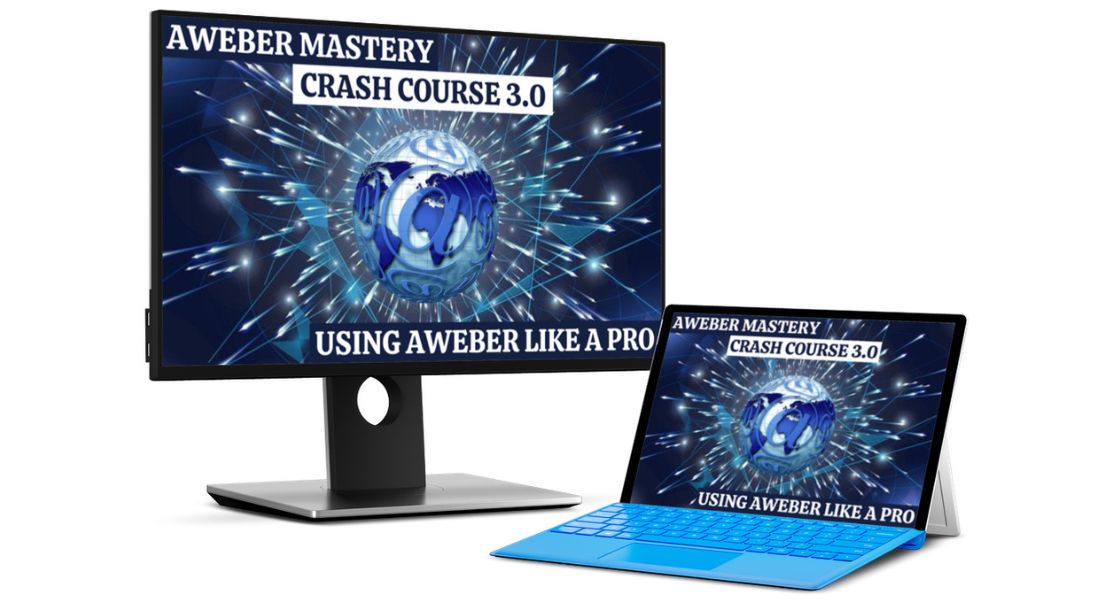 Below you'll find an overview of everything that is included in this Aweber package.
First you'll get 9 video tutorials without any fluff or BS…Just easy to follow on screen instructions that ANYONE can implement.
Finding The Dashboard Button
Using The New Message Editor
Create A List And Opt-in Form
Create Email Templates And Broadcast Messages
Create Automated Email Campaigns
Create Customized Opt-in Forms
Create A Landing Page
Use Animated Gifs In Your Emails
Save Time By Copying Your Emails
Plus Two Extra Bonus Tutorials To Jump Start Your List Building Journey
A trimmed down version of the course to get you up and running quickly
Learn how to create in-demand and eye-catching lead magnets for free
Plus The Checklists And Transcripts Of The Videos For Easy Reference
Detailed checklists that offer a detailed overview of everything that's covered in the video course.
Time-stamped video transcripts for easy access whenever you run into problems that need a quick fix.
Get Instant Access To The Aweber Mastery Crash Course 3.0 For Only $19.95
Instant Access To All The Premium Bonuses Below When You Pick Up The Aweber Mastery Crash Course Today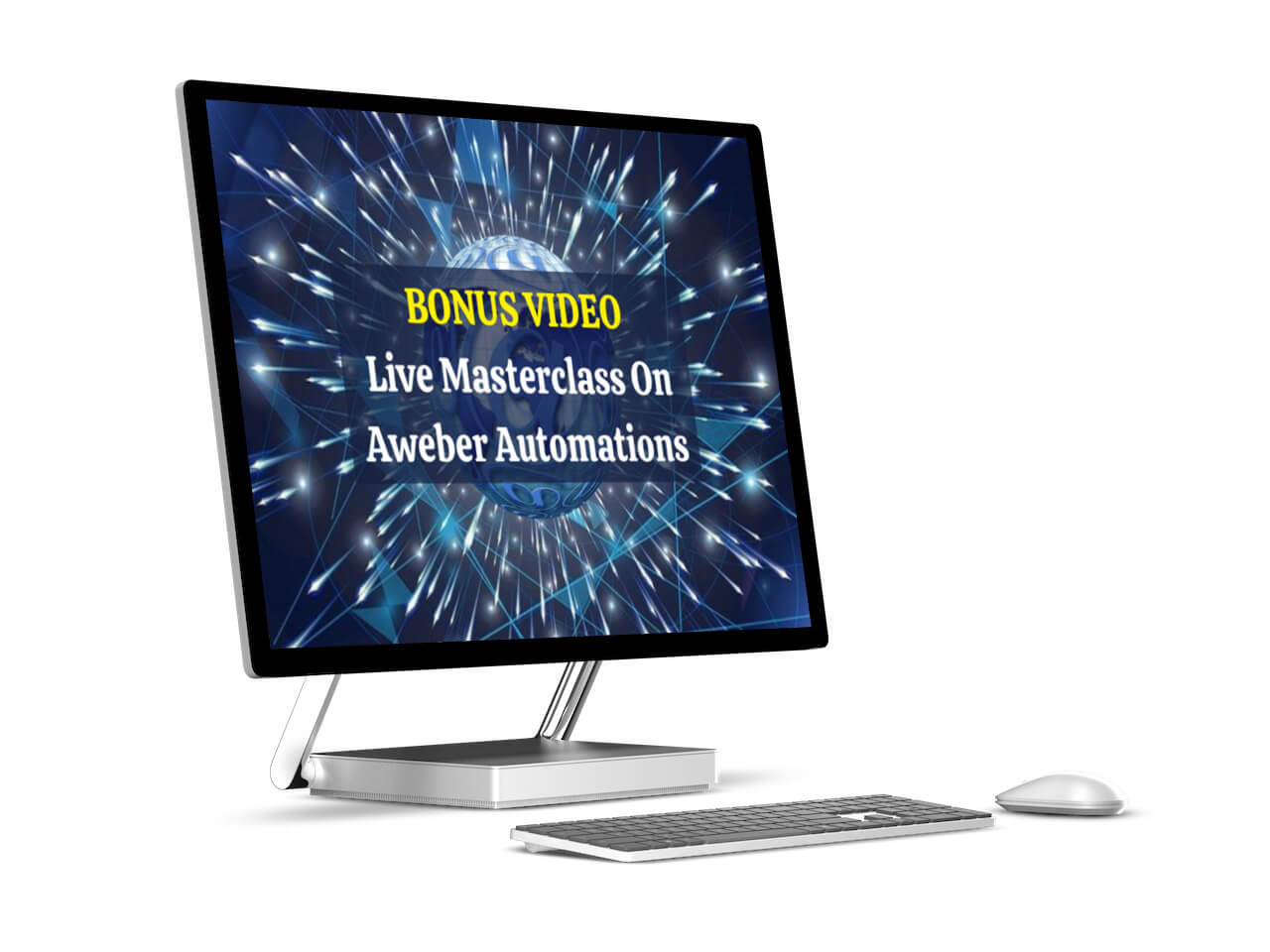 A 40 minute live masterclass hosted by internet marketing veteran Charles Harper on the topic of Aweber automations.



A 4-Part video series where you'll discover some of the best marketing techniques to squeeze out more money from each email you send. You'll get tips on what I do and what tools I use to get it done fast.


A DFY Lead Magnet + 10 Day Email Follow Up Series
Why a lead magnet about building an email list? Well, it's an evergreen topic and no matter what niche your prospects are in – they WILL NEED a list. Period.

So let's have a quick recap of everything you're getting here today:
A 3 Hour Crash Course teaching you everything you need to know to become a proficient Aweber user
A 60 minute video all about setting up simple opt-in funnels without spending a single cent
A detailed 1 hour video that shows you how to create stunning lead magnets completely for free
Access to the video transcripts and checklists to make your life easier when you run into a problem
A 4 part live video series all about the best strategies to become a more profitable email marketer
A done for you lead magnet and a 10-day email follow up sequence to build your list as soon as today
A 40 minute live masterclass all about using Aweber automations to boost your email marketing results
I'm literally handing you all the knowledge and tools to succeed in your email marketing endeavors.
And because I want you to have EVERY advantage in building, growing and profiting from your list I'm going to give it to you for next to nothing.
So don't delay, hit that button below and grab it at this silly low price.

I look forward to have you in the members area and be able to help you get started today.
I've shared by best tips and tricks inside. So with that said, I wish you a lot of success ahead.
Get Everything On This Page Today For Just $19.97
Frequently Asked Questions
*Is This Beginner Friendly?
Yes. You don't need any special skills or experience. It's very easy to do but it requires a little time and effort. If you're looking for push button riches this is not for you.
*What Exactly Will I Learn?
You will learn how to create an in demand lead magnet and set up a simple opt-in funnel to start building your email list.
*Will This Work For Me?
Yes, if you follow along and implement what is shown you'll definitely reap the rewards. However, I cannot ethically guarantee any ROI.
*Do I Need To Make Any Other Investments?
No because this course is totally geared towards building a list with aWeber which is 100% free to use up until you reach 500 subscribers.
*What's The Refund Policy?
There are no refunds. I'm literally handing you the keys to the kingdom with hours of high quality training. I've also been very transparent about what you are going to get. So, if you're looking to buy and do absolutely nothing and refund, then you can save us both the time and hassle.
THIS WEBSITE IN NO WAY IS AFFILIATED WITH FACEBOOK OR ANY FACEBOOK ENTITIES. ONCE YOU LEAVE FACEBOOK THE RESPONSIBILITY NO LONGER IS ON THEIR SITE. WE MAKE EVERY ATTEMPT TO CLEARLY STATE AND SHOW ALL PROOF. WE DO NOT SELL YOUR EMAIL OR ANY INFORMATION. CAN SPAM COMPLIANT. IF YOU HAVE ANY QUESTIONS PLEASE FEEL FREE TO USE THE CONTACT US LINK ABOVE THIS TEXT. ALL TRADEMARKS AND LOGOS ARE THE PROPERTY OF THEIR RESPECTIVE OWNERS. THIS SITE AND THE PRODUCTS AND SERVICES OFFERED ON THIS SITE ARE NOT ASSOCIATED, AFFILIATED, ENDORSED, OR SPONSORED BY ANY BUSINESS LISTED ON THIS PAGE NOR HAVE THEY BEEN REVIEWED TESTED OR CERTIFIED BY ANY OTHER COMPANY LISTED ON THIS PAGE. THE RESULTS SHOWN ARE NOT TYPICAL AND RESULTS WILL VARY BASED ON YOUR MARKET, YOUR EFFORTS, COMPETITION AND MANY OTHER FACTORS OUTSIDE OF OUR CONTROL.