In Just 2 Short Weeks, Go From Zero Subscribers To A Full Blown List
With People That Are Eager To Buy Your Offers…100% Guaranteed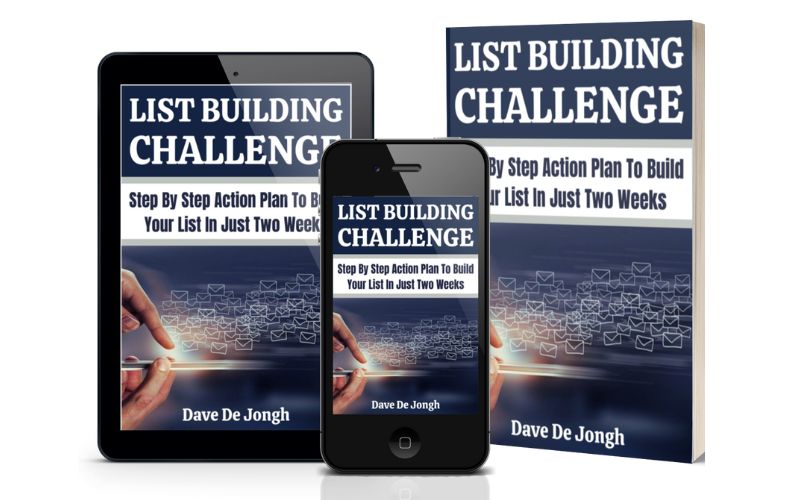 A Complete Action Plan To Build Your List Fast
Detailed And Easy To Follow Instructions
Suitable For Beginners & Struggling Marketers
Simple Tasks For Each Day Of The Challenge
Build A List In Any Niche Of Your Choice
Create A Simple But In-Demand Lead Magnet
Build A Buyers List With Minimal Effort
Have An Audience That Actually Opens Your Mails
No Need To Promote Every Product Under The Sun
And So Much More…
Some Marketers Called Me Crazy For Offering All Of This For Only $17.95

Dear Friend,
How long have you been trying to build a list? One month, one quarter…maybe even one year?
Longer? What are you getting stuck on? Building the web site itself? Maybe its the squeeze page?
Or maybe you have everything set up…but you just can't figure out how to drive the right traffic to your web site.
Look, I have been where you are. I remember when I first got started online, I only knew 2 things for sure…
I had to build a list, and I had to drive traffic to a squeeze page to do it.
So I built a squeeze page. By hand. I did it the hard way, literally building it from scratch.
By the way, it was an ugly squeeze page…only converted about 23% of the people who read that page.
Now my squeeze pages convert at between 34% and 52%.
But I stuck with it…I sent it lots of traffic.
A LOT of traffic…from a lot of different sources. Some worked. Some didn't.
Over the course of the last 3 1/2 years, I have been testing and tracking, tweaking and refining my squeeze pages, my traffic, and my list building efforts.
Now, I generate a myriad of new subscribers each and every month, like clockwork…
And many of those subscribers become invaluable lifetime customers.
But when I first got started, generating a consistent income online was a far fetched dream…and that's all it was.
However, as I have learned, step by step (the hard way, trial and error) EXACTLY what to do to build a subscriber list, I have documented what I have done, and now know EXACTLY what to do to.
So what about you…
Are you interested in radically increasing your list building results?
If so, this is going to be the most exciting page you ever read…
You see…the very way I operate is to share with others, with you, what I have learned.
And to make it easy, step-by-step easy, color-by-numbers easy, I have created a simple challenge that will literally force you to build a list in just 2 weeks or less.
A step by step action plan that will guide you through the ENTIRE process of building a responsive email list…even if you don't know the difference between a squeeze page and a donut.
No fluff, No BS…Just simple bite sized daily tasks that ANYONE can implement.
I'll show you the 3 things that you need to build a list and how to get them
I'll explain everything about the 3 styles of email leads we're going to focus on
I'll guide you through the simple process of creating an in-demand lead magnet
I'll show you how and where to build all the required pages for your funnel
I'll tell you exactly what traffic sources you need to use for the fastest results
I'll show you how to write an email sequence that gets opens, clicks and sales
I'll show you how and where to get your first FREE leads with minimal effort
I'll give you the best strategies to convert your cold leads into long lasting buyers
You'll get extra TIPS & TRICKS to send your conversions through the roof
And much…much more
In a nutshell, I'm going to give you one simple task to complete for each day of this challenge.
If you decide to follow this challenge, you WILL have an email list at the end. It's not a possibility, it's a fact.
Get Everything On This Page Today For Just $17.95
Here's Exactly What You Get Today When You Decide To Purchase My 2-Week Action Plan To Build Your List Quickly And Easily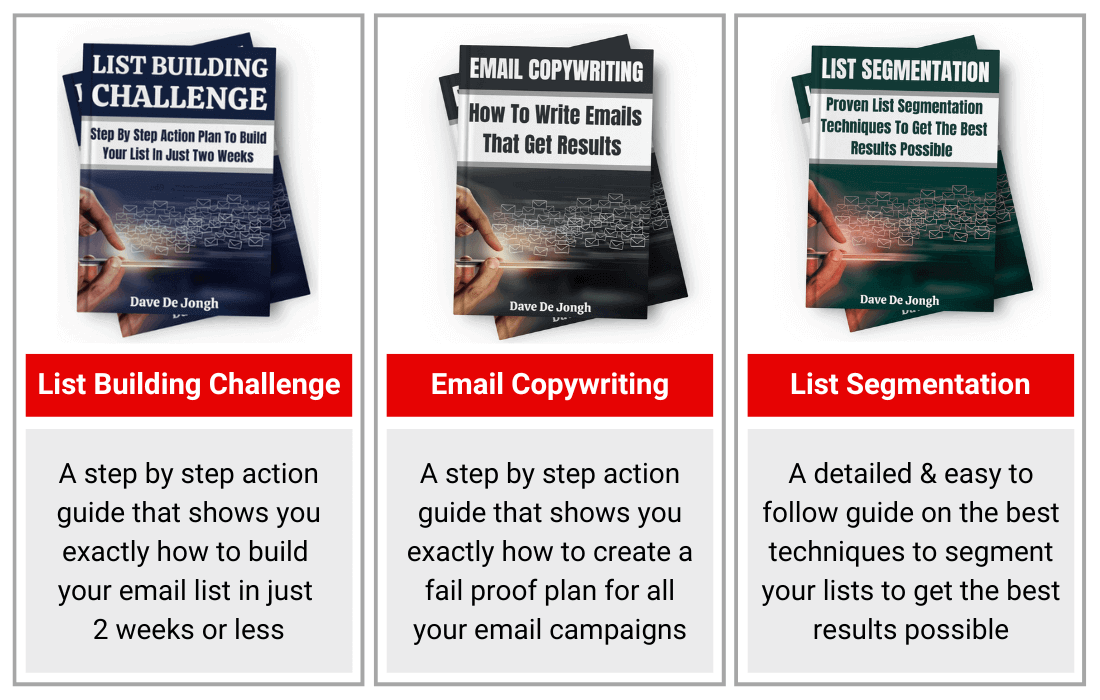 But Wait… That's Not All. There Is More. In Fact, There Is Way More…
I almost didn't include these bonuses because they could be entire products themselves…
But I want you to have EVERY advantage in building and growing your list!
This detailed step by step video training will show you how to set up an opt-in funnel
without spending a single cent on hosting, page builders or auto-responders
This video collection will show you the fastest way to build a list of
hungry buyers that will keep you ahead of your competition
5 detailed and easy to follow checklists that cover every aspect of
building a high converting opt-in funnel
As you can see this List Building Challenge comes with tons of additional value and golden nuggets.
So there is only one real question that remains…
How long are you going to continue stumbling around in the dark, hoping you can figure this list building thing out on your own?
Or are you going to jump on the opportunity to discover exactly how this is done?
Here's the deal…While I could easily charge $47 for this package I've decided to let it go for way less than what it's actually worth.
So I strongly suggest that you jump on this opportunity right now before I come back to my senses and raise the price to what I initially had in mind.
Get Everything On This Page Today For Just $17.95
I'm really looking forward to see you inside and share my best strategies to build your list as quickly as possible.
And with that said and done, I wish you a lot of success ahead.
THIS WEBSITE IN NO WAY IS AFFILIATED WITH FACEBOOK OR ANY FACEBOOK ENTITIES. ONCE YOU LEAVE FACEBOOK THE RESPONSIBILITY NO LONGER IS ON THEIR SITE. WE MAKE EVERY ATTEMPT TO CLEARLY STATE AND SHOW ALL PROOF. WE DO NOT SELL YOUR EMAIL OR ANY INFORMATION. CAN SPAM COMPLIANT. IF YOU HAVE ANY QUESTIONS PLEASE FEEL FREE TO USE THE CONTACT US LINK ABOVE THIS TEXT. ALL TRADEMARKS AND LOGOS ARE THE PROPERTY OF THEIR RESPECTIVE OWNERS. THIS SITE AND THE PRODUCTS AND SERVICES OFFERED ON THIS SITE ARE NOT ASSOCIATED, AFFILIATED, ENDORSED, OR SPONSORED BY ANY BUSINESS LISTED ON THIS PAGE NOR HAVE THEY BEEN REVIEWED TESTED OR CERTIFIED BY ANY OTHER COMPANY LISTED ON THIS PAGE. THE RESULTS SHOWN ARE NOT TYPICAL AND RESULTS WILL VARY BASED ON YOUR MARKET, YOUR EFFORTS, COMPETITION AND MANY OTHER FACTORS OUTSIDE OF OUR CONTROL.